Leadership. Sales. Strategic Planning.
When you win, your competitor loses.
That's the way business works.
It's in your best interest to play to win.
For sales training, leadership coaching, or strategic planning, hire someone who has experience as a winning player, as a dynamic coach, and as a successful business owner.
Call on the name synonymous with winning.
Call on Kelly Riggs.
Join the LockerRoom!
Improve Engagement!
1-on-1 Management®
Two out of every three employees are "Not Engaged" or "Actively Disengaged."
The evidence of this problem is easy-to-see: high turnover, under-performing teams, toxic workplace culture, lost customers, and much more.
The big question is "How do I fix the problem?"
The problem is not your employees; it's your managers. Managers are almost always promoted based on performance or skill, and typically lack any type of training in the necessary leadership and interpersonal skills necessary to be effective leaders.
Developed from twenty years of management experience, the skills taught in 1-on-1 Management® allow managers to confidently and effectively lead employees. Learn how to create an environment that engages employees and establishes a lasting trust between managers and employees – the first step in the creation of a high-performance team.
Kelly is available for half-day or full-day workshops, Executive Coaching, or for presentations at corporate meetings.
Learn more...
Increase Sales!
1-on-1 Selling™
Every salesperson wants to make more money. Unfortunately, very few are willing to learn and practice the critical selling skills needed to actually make more money. The reality is that sales success is dependent on three things: your attitude, your selling skills, and your desire to become a great salesperson.
As a business owner or sales manager, you need to quit relying on finding the "born salesman." Instead, you need to search for competitors – individuals with the desire and discipline to succeed – and then teach them the skills that create high-performance salespeople.
1-on-1 Selling™ is a step-by-step approach to selling that creates real and lasting results. Salespeople learn how to identify high-value, high-probability opportunities; how to follow a consistent and predictable sales process; how to dramatically improve sales presentations; how to develop an effective territory management system, and much more.
Kelly is available for half-day and full-day workshops, sales coaching and/or training, or for speaking at sales meetings or conferences.
Learn more...
Keynote Presentations
Kelly is a highly acclaimed platform speaker and widely recognized as a dynamic thought leader in the fields of leadership, sales development, and strategic planning. His keynote presentations are engaging, motivating, and always "content-rich."
"My experience is that, when audiences get useful and practical ideas they can use right away, meetings are always more successful. When you take those ideas and wrap them up in memorable stories and illustrations, they stick! I am proud to say that my presentations consistently earn over-the-top accolades and stellar evaluations from attendees."
Click Here for Keynote Topics...

Steven Gaffney

Chester Elton

John Spence


Buy the Book!
Quit Whining & Start SELLING!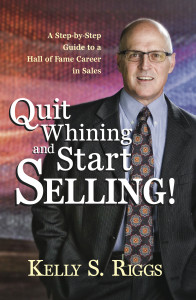 Success in selling is dependent on three things: your attitude, your selling skills, and your discipline. Although every salesperson wants to make more money, very few are willing to learn and practice the skills that create consistent sales success.
For the salesperson with the right attitude and the right discipline, the only thing missing is the right training!
Quit Whining and Start SELLING! will introduce you to the proven 1-on-1 Selling™ methodology and elevate your sales game to the next level!
Learn More!
Buy the Book
1-on-1 Management®
Most managers are frustrated. And it's not because they lack the technical skills to be effective, it's because they lack the critical leadership skills to be effective.
The 1-on-1 Management™ concepts introduced in this book provide an easy-to-understand, and easy-to-implement, methodology for developing essential managerial skills.
No matter how long you've been a manager, this book will dramatically impact your ability to create and lead a winning team. Yes, you can become a great manager!
Learn More!
Recently Published
Realizing Leadership Magazine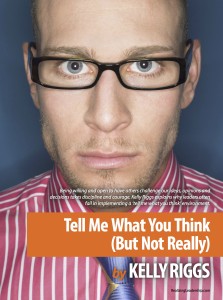 My article "Tell Me What You Think (But Not Really) was published in the August 2014 edition of the online magazine at Realizing Leadership.
The editor, Laurie Wilhelm, has introduced me to some influential leaders, including Chester Elton (co-author of "The Carrot Principle), Gregg Thompson (President of Blue Point Leadership), and Randy Conley (VP, Ken Blanchard Companies). I am looking forward to having them join me on the Business LockerRoom show.
Download the article and enjoy!
Download the Article